Alaska Center for the Book
Library of Congress National Book Festival
Once again the Alaska Center for the book will participate in the National Book Festival. In a typical year the Library of Congress National Book Festival (NBF) is an annual literary event in Washington, DC that brings together best-selling authors and thousands of book fans for author talks, panel discussions, book signings and other activities. Click the tab in the menu above or here to see more information. Every year the National Book Festival also hosts the Parade of States where each state is represented by a state library, a state center for the book, or humanities organization which showcases a local book or author. Given the ongoing Covid-19 situation, the Library of Congress has decided to host a virtual book festival and parade of the states called Road Map to Reading – Great Reads from Great Places.The link to the festival website is here. From that page you can click on Alaska on the map to go to information about the book chosen to represent our state at this year's festival, Shanyaak'utlaax: Salmon Boy, and also find much more information about the festival.
Winners of 38th Annual Creative Writing Contest Announced
We are pleased to celebrate the winners of the 38th UAA/Anchorage Daily News Creative Writing Contest. For the 2021 contest, more than 400 entries were submitted by writers ranging in age from 6 to 83. The contest is presented by Anchorage Daily News, University of Alaska and Alaska Center for the Book. The Grand Prize First Place was taken by Wayne Lewis of Anchorage for his poem, "Walrus." Editor's Choice awards were given to Lauren Nanouk Jones from Mt. Edgecumbe High School, Sitka, for her poem, "I Am From," and Melanya Berg of Anchorage for her story "Castles and Caskets."
Full text of the first-place winning entries for this year's contest and previous contests can be found online at LitSite Alaska, https://tinyurl.com/y9few57e and adn.com/creativewritingcontest.
Ernestine Hayes named 2021 Distinguished Artist
Author Ernestine Saankaláxt' Hayes has been named 2021 Distinguished Artist award by the Rasmuson Foundation. According to the Foundation, the award, which includes $40,000, "honors a lifetime of creative excellence and outstanding contribution to the state's arts and culture." more information…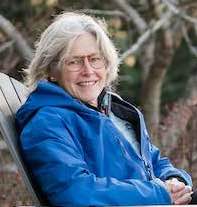 Heather Lende name Alaska Writer Laureate
Heather Lende has been named the Alaska State Writer Laureate for the 2021 – 2023 term.
Heather Lende's many essays and stories, about life in Haines, Alaska have been published widely, including in the Christian Science Monitor, Anchorage Daily News, on National Public Radio.  She has written popular memoirs, Find the Good, If You Lived Here, I'd Know Your Name, and Take Good Care of the Garden and the Dogs. Find more information here and here.
Anchorage Public Library Launches Alaska Reads 2021
"Anchorage Reads" is a community led program to promote reading, literacy and community-building by inspiring people of different ages and backgrounds to talk about the same book. Groups and individuals are encouraged to participate by reading the book, attending events or organizing their own.
This year the program has selected
Stamped from the Beginning: A Definitive History of Racist Ideas in America 
by Ibram X. Kendi
 and Stamped: Racism, Antiracism, and You by Ibram X. Kendi and Jason Reynolds. The Anchorage Public Library works to ensure that all people in Anchorage have free and equal access to information, and this goal cannot be achieved without addressing racial and social inequity. By choosing Stamped and Stamped from the Beginning, Anchorage Reads and the Anchorage Public Library seek to build a community where we can learn from each other and work together to create a better future for everyone. 
For a complete list of "Anchorage Reads" events, suggested supplemental reading and film lists, a reader's guide, and much more, visit the Anchorage Public Library's website
HERE
.
Alaska Artist Wins Caldecott Medal for Children's Book
Michaela Goade won the Randolph Caldecott Medal for her illustrations in "We Are Water Protectors," a children's book that takes a stand on environmental issues. She is a member of the Tlingit and Haida Indian Tribes of Alaska and is the first indigenous artist to win this award. The book was written by Carole Lindstrom. 
The American Library Association, which gives this award, also announced other winners in children's media, including the John Newbery Medal, the Coretta Scott King Award, the Michael L. Printz Award and others.
More information…
American Indian Library Association Read Native Initiative
The AILA is sponsoring a reading challenge for 2021. They are bringing together these reading prompts to help expand the reading of Native authors. They plan to hold quarterly webinars/books talks, and hope to be fairly active on social media. 
Here are the links to their webpage and their social media pages. If you have questions, or would like to ask for reader advisory suggestions, send them an email. 
The Alaska Center for the Book is included in the Permanent Fund Dividend's Pick.Click.Give. charitable contributions program. It's a secure and easy way to make a donation to an organization that stimulates public interest in literacy through the spoken and written word. When you file for your PFD online, you will be given a chance to donate money from your PFD. When you do, please remember The Alaska Center for the Book.
Just check the box that authorizes the State to send your name, contact information and the amount you give when it sends contributions to an organization so we can recognize your support.
Thanks to all who contributed. Your help allows the Alaska Center for the Book to continue its programs, events and unique projects to support and build literacy in Alaska.
For more information click here:  Pick. Click. Give.
Autumn at Storyknife Applications Open. Only one month of residencies remains for the 2021 Storyknife Writers Retreat season. One more month this year for women writers to hunker down in their cabins, watch autumn winds ripple the dry grass in the meadow, and write their hearts out. One more month this year for them to gather in Eva's House to talk over amazing dinners prepared by Maura, compare notes on the work they completed for the day, perhaps sit around the living room and enjoy tea and each other's company. One more month this year for women to devote themselves to their writing dreams and aspirations. Link to Storyknife website.
Seeking Alaska Native Writers Calling all Alaska Native writers, poets, and content creators! We are seeking submissions for stories, poems, photo essays, and other creative works that center what Spring means to you from an Indigenous lens. This is a paid opportunity, and we would like to share your work with our community.If you're interested, please contact Presley West at pwest@alaskanative.net. Haw'aa!
Hometown Reads is in Anchorage! A website dedicated to locating authors near you, Hometown Reads has a section for Anchorage. Sign up to have your book displayed and join the Facebook page to brainstorm ways to advertise and sell books locally. Check it out at https://hometownreads.com.
Youth Poet Laureate. You probably know that there is a United States Poet Laureate, but you may have never having heard of the Youth Poet Laureate. Here is a link to a excellent article from TheLilly.com that features a conversation with two Youth Laureates. more…
"Baby Raven" Books Wins AILA Award
Sealaska Heritage Institute's (SHI) Baby Raven Reads book Raven Makes the Aleutians has won a Picture Book Honor award from the American Indian Library Association (AILA).
The AILA, an affiliate of the American Library Association, announced winners of its biennial Youth Media Awards today in Philadelphia, calling the selected books "the best of the best in children's and young adult literature." More…