Alaska Center for the Book
Alaska Authors and Books Honored in 2023 Awards
Two Alaskan writers and an entire town are winners of the 2023 Contributions to Literacy in Alaska (CLIA) Awards from the Alaska Center for the Book.

Honorees are author, editor, and writing mentor Tricia Brown; Erin Coughlin Hollowell, a poet, writer, and director of both Storyknife Writers Retreat and the Kachemak Bay Writers' Conference; and the community of Moose Pass, which created a multi-generational book project telling the history of their town.

The CLIA awards are presented annually by Alaska Center for the Book, Alaska's liaison with the U.S. Library of Congress Center for the Book. Since 1993, the awards have been presented to more than 100 people and institutions making a significant contribution in literacy, the literary arts, or the preservation of the written or spoken word.

Tricia Brown of Anchorage has worked as a journalist, author, editor, book developer, and writing mentor. She has written more than 30 titles, among them 12 children's books, most recently "Alaska Native Games and How to Play Them." She travels extensively, speaking at schools, libraries, and workshops for all ages. Starting as a journalist for the Fairbanks Daily News-Miner in 1978, she also worked with Alaska magazine, Alaska Northwest Books, Best Beginnings, and others. She is the winner of the CLIA Sue Sherif Award, named for a longtime children's librarian pivotal in supporting literacy in Alaska.

Erin Coughlin Hollowell of Homer has spent years supporting the work of poets and writers in Alaska. She has been involved with Poems in Place, Alaska Reads, and 49 Writers. She is currently executive director of Storyknife Writers Retreat and director of the Kachemak Bay Writers' Conference. She is also the author of three collections of poetry, most recently "Corvus and Crater," and recipient of several literary awards and fellowships.

The Community of Moose Pass worked together to create "People, Paths, and Places: The Frontier History of Moose Pass, Alaska." Edited by Kaylene Johnson-Sullivan, the book includes contributions from local school children, longtime residents, and historic collections. The multi-generational learning project not only preserved local history, but created community pride and friendships that should inspire other Alaskans and communities everywhere.

The CLIA Award winners will be honored at an event at 2:30 p.m. Sunday, Oct. 1 at Writer's Block Bookstore, 3956 Spenard Rd. in Anchorage. The brief ceremony will be followed by a panel discussion of works in progress by several Alaskan authors, kicking off Alaska Book Week Oct. 1-8 statewide. Local presentations are being set up in Homer and Moose Pass.

Founded in 1991, ACB is a non-profit, all-volunteer organization. It participates in the National Book Festival, Alaska Reads, Alaska Book Week, and other events. 
We're thrilled to announce the completion of the first-ever Read Alaska Native Reading Challenge. We had lots of prizes, so we were able to send books by Alaska Native authors to 13 entrants, including four adults and nine children. Thank you to all those who supported this project and participated!
Great Reads from Great Places
Books by regional authors selected to represent Alaska at the 2023 National Book Festival
The Alaska Center for the Book is proud to announce the books chosen to represent Alaska for
the 2023 Great Reads from Great Places, a program featured at the annual National Book
Festival in Washington, D.C.
Since 2002, each state has selected a book written for children or young adults that reflects
their state's unique character and location. In 2022, a second book, one for an adult audience
was added to the program. Selections are highlighted at the Festival, and are placed on the
permanent list of honored titles online at Great Reads from Great Places.
"We are especially honored to recognize two indigenous creators this year," said Sara Juday,
co-president of the Alaska Center for the Book.
2023 Selection for Adults:
Sivuliiq: Ancestor by Lily H. Tuzroyluke, (Epicenter Press, 2023)
2023 Selection for Youth:
Berry Song by Michaela Goade,(Little, Brown and Company, 2022)
This year, Lily Tuzroyluke will join authors of selected books for adult audiences in a recorded
video that will be posted on the National Book Festival website as well as the Library of
Congress YouTube channel. Visit the channel here.
Michaela Goade is a featured illustrator at the festival. She joins former U.S. Poet Laureate Joy
Harjo at the Festival to present "A Poem Is a Pocket That Can Hold Your Dreams." This
program focuses on their book, "Remember," a picture book adaptation of the work of poetry
inviting young readers to reflect on the world around them.
This year's festival will be held August 12 at the Washington Convention Center. In an area
called the "Roadmap to Reading," representatives from the 56 affiliates of the Center for the
Book in the Library of Congress will staff tables to promote their book selections and state
programs.
Link to Western Region 1 Great Reads Author Panel.
Link to all of the Great Reads videos from around the country.
More information can be found here.
A full list of participating authors can be found at on National Book Festival website.
More than 2,700 people enjoyed this year's annual free, family friendly community tradition that celebrates reading and kicks off the library's Summer Discovery reading program. There were 47 community booths full of activities, live entertainment on the stage, 3 costume characters and so much more.
Full text of the first-place winning entries for this year's contest can be found at LitSite Alaska.
Surviving Bear Island, Fairbanks author Paul Greci's young adult wilderness tale, has been selected for the 2022 Alaska Reads program. Alaska Reads is a biennial statewide reading program that features a selected publication by a living Alaskan author. It seeks to build excitement around contemporary Alaskan authors and the stories they tell, through author talks, discussion groups, and other community events.
This year's program is a partnership among Alaska Center for the Book, Alaska State Writer Heather Lende, the Alaska Library Association, Rasmuson Foundation, the Fairbanks Rotary Club, and Move Books. The initiative began in 2015 through the efforts of the late Frank Soos, 2015-17 Alaska State Writer Laureate. Lende, the current Alaska State Writer, led a selection committee to choose the 2022 book. 
Surviving Bear Island is the riveting story of 14-year-old Tom and his father, who are capsized from their kayak into Prince William Sound. What follows is a harrowing 80-day experience for young Tom, as he struggles to survive after washing up on an island with a substantial bear presence.
Greci will make personal appearances in many Alaska schools and libraries in the fall of 2022 to introduce his book and lead discussions with readers. Information will be available at the Alaska Center for the Book website, as plans for author appearances and events are solidified.
We are currently programming new activities for Alaska Book Week 2023. Visit us at Alaska Book Week to see what we have planned. More events will be added in the coming days.
Alaska Book Week is a statewide event that annually celebrates the many ways that we all appreciate books, from readings, to panels, lectures, discussions, exhibits, and youth activities. Participants may include schools, libraries, universities, publishers, authors, bookstores, museums, individuals, and organizations that want to join us in this endeavor.
Visit the archives section on the Alaska Book Week site to see past events. Click the tab in the menu at the top of the page where you will see a link to the archives.
The Alaska Arts and Culture Foundation, in partnership with the Alaska State Council on the Arts (ASCA), offers The Alaska Literary Awards, a new program, established in 2014, to support Alaska writers.
The Alaska Literary Awards recognize and support writers of poetry, fiction, creative nonfiction, playwriting, screenwriting, and mixed genres. Any Alaska writer over the age of 18 who is not a full-time student is eligible to apply. Quality of the work submitted is the primary consideration in determining who receives the awards. A select number of $5,000 awards will be awarded annually.
The Alaska Literary Awards for 2021 go to:
Richard Chiappone – Fiction, Homer
Linda Martin – Poetry, Homer
Christy NaMee Eriksen – Mixed Genre, Juneau
Mistee St. Clair – Poetry, Juneau
To apply go to https://artist.callforentry.org/festivals_unique_info.php?ID=9254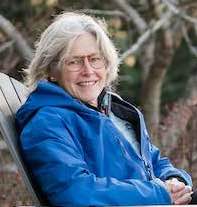 Heather Lende named Alaska Writer Laureate
Heather Lende has been named the Alaska State Writer Laureate for the 2021 – 2023 term.
Heather Lende's many essays and stories, about life in Haines, Alaska have been published widely, including in the Christian Science Monitor, Anchorage Daily News, on National Public Radio.  She has written popular memoirs, Find the Good, If You Lived Here, I'd Know Your Name, and Take Good Care of the Garden and the Dogs. Find more information here and here.
Alaska Artist Wins Caldecott Medal for Children's Book
Michaela Goade won the Randolph Caldecott Medal for her illustrations in "We Are Water Protectors," a children's book that takes a stand on environmental issues. She is a member of the Tlingit and Haida Indian Tribes of Alaska and is the first indigenous artist to win this award. The book was written by Carole Lindstrom.
The American Library Association, which gives this award, also announced other winners in children's media, including the John Newbery Medal, the Coretta Scott King Award, the Michael L. Printz Award and others.
More information…
The Alaska Center for the Book is included in the Permanent Fund Dividend's Pick.Click.Give. charitable contributions program. It's a secure and easy way to make a donation to an organization that stimulates public interest in literacy through the spoken and written word. When you file for your PFD online, you will be given a chance to donate money from your PFD. When you do, please remember The Alaska Center for the Book.
Just check the box that authorizes the State to send your name, contact information and the amount you give when it sends contributions to an organization so we can recognize your support.
Thanks to all who contributed. Your help allows the Alaska Center for the Book to continue its programs, events and unique projects to support and build literacy in Alaska.
For more information click here:  Pick. Click. Give.
Storyknife Writers Retreat. The application period for 2024 opened July 1st and closes on August 31. Women's stories are vital and important. Currently, those stories whether expressed in poems, plays, novels, essays, or memoirs are not published, reviewed, or promoted as often as the work of men. Storyknife provides women with the time and space to explore their craft without distraction. Every aspect of a residency at Storyknife is steeped in a profound generosity of spirit so that each writer knows she and her work are valuable. Storyknife residents carry away both this affirmation and a living community of women writers to assist their valuable work wherever they go. https://storyknife.org/
Baby Raven Reads – Sealaska Heritage sponsors Baby Raven Reads, an award-winning program that promotes early-literacy, language development and school readiness for Alaska Native families with children up to age 5. Baby Raven Reads improves early literacy skills by translating cultural strengths into home literacy practices. Baby Raven Reads provides family literacy events, training for care providers, and professional development for early childhood educators. Included on the Baby Raven Reads page are lesson plans, audio resources, and information about purchasing books in the series! Visit www.akarts.org/studentseducators for more detailed information and other Student + Families + Educators resources.
Seeking Alaska Native Writers Calling all Alaska Native writers, poets, and content creators! We are seeking submissions for stories, poems, photo essays, and other creative works that center what Spring means to you from an Indigenous lens. This is a paid opportunity, and we would like to share your work with our community.If you're interested, please contact Presley West at pwest@alaskanative.net. Haw'aa!
Hometown Reads is in Anchorage! A website dedicated to locating authors near you, Hometown Reads has a section for Anchorage. Sign up to have your book displayed and join the Facebook page to brainstorm ways to advertise and sell books locally. Check it out at https://hometownreads.com.
Youth Poet Laureate. You probably know that there is a United States Poet Laureate, but you may have never having heard of the Youth Poet Laureate. Here is a link to a excellent article from TheLilly.com that features a conversation with two Youth Laureates.
"Baby Raven" Books Wins AILA Award
Sealaska Heritage Institute's (SHI) Baby Raven Reads book Raven Makes the Aleutians has won a Picture Book Honor award from the American Indian Library Association (AILA).
The AILA, an affiliate of the American Library Association, announced winners of its biennial Youth Media Awards today in Philadelphia, calling the selected books "the best of the best in children's and young adult literature." More…