Alaska Center for the Book
Saturday, May 20 Noon to 4:00 pm. Loussac Library Lawn
This annual free, family friendly community tradition celebrates reading and kicks off the library's Summer Discovery reading program. There will be community booths full of activities, live entertainment on the stage, and so much more.
Full text of the first-place winning entries for this year's contest can be found at LitSite Alaska.

Winter is a good time to get cozy with a book or to share stories, so it's a great time to kick off the Alaska Center for the Book's statewide reading challenge that celebrates works by Alaska Native authors and creators. The challenge, a bingo card activity, is adapted with permission from the American Indian Library Association's "Read Native" 2021. Launching in Alaska in January, 2023, this program offers a great opportunity to introduce readers of all ages to Alaska Native voices.
HOW TO PARTICIPATE
The Alaska Center for the Book invites you to participate in this special reading challenge.
Click here to link to a webpage with the printable Bingo Cards, instructions, and many other resources to help you enjoy this game.
Those who participate and send in a completed card by June 30, 2023, will be entered in a drawing to win a book by an Alaska Native author.
Below are two links to discussions about the Read Alaska Native Reading Challenge:
Listen in on this conversation about the Read Alaska Native Reading Challenge with KNBA's Rhonda McBride, author Angela Gonzalez and Alaska Center for the Book co-president Sara Juday. Our Community: January 26, 2023
Click here for a link to Alaska Public Media's Hometown Alaska webpage for a conversation about how the Alaska Center for the Book is working to increase awareness of Alaska Native authors. Guests are Barbara and Ethan Jacko Atwater, mother/son writing partners who have written multiple children's books, and Sara Juday, co-president of Alaska Center for the Book. 
Thank you to the American Indian Library Association for their inspiration and their support. 
Surviving Bear Island, Fairbanks author Paul Greci's young adult wilderness tale, has been selected for the 2022 Alaska Reads program. Alaska Reads is a biennial statewide reading program that features a selected publication by a living Alaskan author. It seeks to build excitement around contemporary Alaskan authors and the stories they tell, through author talks, discussion groups, and other community events.
This year's program is a partnership among Alaska Center for the Book, Alaska State Writer Heather Lende, the Alaska Library Association, Rasmuson Foundation, the Fairbanks Rotary Club, and Move Books. The initiative began in 2015 through the efforts of the late Frank Soos, 2015-17 Alaska State Writer Laureate. Lende, the current Alaska State Writer, led a selection committee to choose the 2022 book. 
Surviving Bear Island is the riveting story of 14-year-old Tom and his father, who are capsized from their kayak into Prince William Sound. What follows is a harrowing 80-day experience for young Tom, as he struggles to survive after washing up on an island with a substantial bear presence.
Greci will make personal appearances in many Alaska schools and libraries in the fall of 2022 to introduce his book and lead discussions with readers. Information will be available at the Alaska Center for the Book website, as plans for author appearances and events are solidified.
Great Reads from Great Places
Books by regional authors selected to represent Alaska at the 2022 National Book Festival
Click the photo to see Alaska Senator Lisa Murkowski reading "Recess at 20 Below," and an interview with author Cindy Lou Aillaud.
Alaska Book Week has passed but many of the events were recorded and are available on the
Alaska Book Week website,
along with Book Week events from the past two years.
Alaska Book Week is a statewide event that annually celebrates the many ways that we all appreciate books, from readings, to panels, lectures, discussions, exhibits, and youth activities. Participants may include schools, libraries, universities, publishers, authors, bookstores, museums, individuals, and organizations that want to join us in this endeavor.
Visit the archives section on the Alaska Book Week site to see past events. Click the tab in the menu at the top of the page where you will see a link to the archives.
Kenai Peninsula Writers' Contest Winners Named
The Homer Council on the Arts announces the winners in its all-age 24th Annual Kenai Peninsula Writers' Contest. Revived last year by the arts council, poets and writers from grades K-12 and adults were invited to submit their best work in poetry, nonfiction and fiction. Winning entries can be read at the Homer Arts Council website here.
The Alaska Arts and Culture Foundation, in partnership with the Alaska State Council on the Arts (ASCA), offers The Alaska Literary Awards, a new program, established in 2014, to support Alaska writers.
The Alaska Literary Awards recognize and support writers of poetry, fiction, creative nonfiction, playwriting, screenwriting, and mixed genres. Any Alaska writer over the age of 18 who is not a full-time student is eligible to apply. Quality of the work submitted is the primary consideration in determining who receives the awards. A select number of $5,000 awards will be awarded annually.
The Alaska Literary Awards for 2021 go to:
Richard Chiappone – Fiction, Homer
Linda Martin – Poetry, Homer
Christy NaMee Eriksen – Mixed Genre, Juneau
Mistee St. Clair – Poetry, Juneau
To apply go to https://artist.callforentry.org/festivals_unique_info.php?ID=9254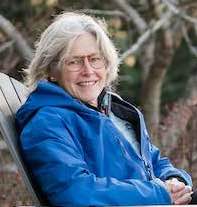 Heather Lende named Alaska Writer Laureate
Heather Lende has been named the Alaska State Writer Laureate for the 2021 – 2023 term.
Heather Lende's many essays and stories, about life in Haines, Alaska have been published widely, including in the Christian Science Monitor, Anchorage Daily News, on National Public Radio.  She has written popular memoirs, Find the Good, If You Lived Here, I'd Know Your Name, and Take Good Care of the Garden and the Dogs. Find more information here and here.
Alaska Artist Wins Caldecott Medal for Children's Book
Michaela Goade won the Randolph Caldecott Medal for her illustrations in "We Are Water Protectors," a children's book that takes a stand on environmental issues. She is a member of the Tlingit and Haida Indian Tribes of Alaska and is the first indigenous artist to win this award. The book was written by Carole Lindstrom. 
The American Library Association, which gives this award, also announced other winners in children's media, including the John Newbery Medal, the Coretta Scott King Award, the Michael L. Printz Award and others.
More information…
The Alaska Center for the Book is included in the Permanent Fund Dividend's Pick.Click.Give. charitable contributions program. It's a secure and easy way to make a donation to an organization that stimulates public interest in literacy through the spoken and written word. When you file for your PFD online, you will be given a chance to donate money from your PFD. When you do, please remember The Alaska Center for the Book.
Just check the box that authorizes the State to send your name, contact information and the amount you give when it sends contributions to an organization so we can recognize your support.
Thanks to all who contributed. Your help allows the Alaska Center for the Book to continue its programs, events and unique projects to support and build literacy in Alaska.
For more information click here:  Pick. Click. Give.
Registration for North Words 2023 is now open! Over the past few weeks they have filled the remainder of their faculty and have created a new slogan/theme for the conference: Ya aaní káa has du shkalneegí yaa nas.áx̱ (On this land their stories are sounding off). The slogan evolved from a recognition that we are on Lingit traditional lands and a challenge by the late Brian Doyle (our 2016 keynote) for us to go out and catch stories. The 13th annual North Words Writers Symposium will be held in Skagway on May 24-27, 2023.
Joining the faculty with our 2023 keynote author Karen Russell (Swamplandia, Orange World, Sleep Donation) will be these wonderful Alaska-NW writers: Marybeth Holleman, M Jackson, Leigh Newman, Marie Tozier, Caroline Van Hemert, and Emily Wall. Check out their bios and recent works under the 2023 Conference menu tab on our website, www.nwwriterss.com. When you are ready, go to the Registration tab and hit the magic button!
Kachemak Bay Writers' Conference, May 13-16, Homer. Registration opens on January 17th for the 21st Kachemak Bay Writers' Conference to be held on May 13-16 at the Kachemak Bay Campus in Homer. 4 days of in person craft classes, conversations, generative workshops, readings, and opportunities to form a writerly community and more. The 2023 keynote speaker will be Robin Wall Kimmerer, scientist, decorated professor, and enrolled member of the Citizen Potawatomi Nation. She is the author of Braiding Sweetgrass: Indigenous Wisdom, Scientific Knowledge and the Teachings of Plants, which has earned Kimmerer wide acclaim. Joining Robin are the amazing writers Francisco Cantú, Reyna Grande, Sara Eliza Johnson, J. Drew Lanham, Jason Mott, and Paisley Rekdal. Editor Daniel Slager from Milkweed Editions and agent Jin Ahn at the Wylie Agency will join the faculty to represent the publishing industry. http://writersconf.kpc.alaska.edu/
Seeking Alaska Native Writers Calling all Alaska Native writers, poets, and content creators! We are seeking submissions for stories, poems, photo essays, and other creative works that center what Spring means to you from an Indigenous lens. This is a paid opportunity, and we would like to share your work with our community.If you're interested, please contact Presley West at pwest@alaskanative.net. Haw'aa!
Hometown Reads is in Anchorage! A website dedicated to locating authors near you, Hometown Reads has a section for Anchorage. Sign up to have your book displayed and join the Facebook page to brainstorm ways to advertise and sell books locally. Check it out at https://hometownreads.com.
Youth Poet Laureate. You probably know that there is a United States Poet Laureate, but you may have never having heard of the Youth Poet Laureate. Here is a link to a excellent article from TheLilly.com that features a conversation with two Youth Laureates. 
"Baby Raven" Books Wins AILA Award
Sealaska Heritage Institute's (SHI) Baby Raven Reads book Raven Makes the Aleutians has won a Picture Book Honor award from the American Indian Library Association (AILA).
The AILA, an affiliate of the American Library Association, announced winners of its biennial Youth Media Awards today in Philadelphia, calling the selected books "the best of the best in children's and young adult literature." More…