Alaska Center for the Book
Award-winning Young Adult Novel Selected for 2022 Alaska Reads program
Surviving Bear Island, Fairbanks author Paul Greci's young adult wilderness tale, has been selected for the 2022 Alaska Reads program. Alaska Reads is a biennial statewide reading program that features a selected publication by a living Alaskan author. It seeks to build excitement around contemporary Alaskan authors and the stories they tell, through author talks, discussion groups, and other community events.
This year's program is a partnership among Alaska Center for the Book, Alaska State Writer Heather Lende, the Alaska Library Association, Rasmuson Foundation, the Fairbanks Rotary Club, and Move Books. The initiative began in 2015 through the efforts of the late Frank Soos, 2015-17 Alaska State Writer Laureate. Lende, the current Alaska State Writer, led a selection committee to choose the 2022 book. 
Surviving Bear Island is the riveting story of 14-year-old Tom and his father, who are capsized from their kayak into Prince William Sound. What follows is a harrowing 80-day experience for young Tom, as he struggles to survive after washing up on an island with a substantial bear presence.
Greci will make personal appearances in many Alaska schools and libraries in the fall of 2022 to introduce his book and lead discussions with readers. Information will be available at the Alaska Center for the Book website, as plans for author appearances and events are solidified.
Great Reads from Great Places
Books by regional authors selected to represent Alaska at the 2022 National Book Festival
The Alaska Center for the Book selected one youth book and one
adult book by Alaska authors to represent the state at the 2022 National Book
Festival: "Recess at 20 Below" by Cindy Lou Aillaud and "A Thousand Trails Home,
Living with Caribou" by Seth Kantner.
Both titles are part of National Center for the Book's Great Reads from Great
Places program. Great Reads from Great Places features books and authors
representing the literary heritage of all 50 states, the District of Columbia, Puerto
Rico, the U.S. Virgin Islands, Guam, American Samoa, and Northern Marianas. For
more than 20 years this program has included a highlighted youth title from each
affiliate center. In 2022, "Great Reads from Great Places" is including titles for
adults for the first time.
Click here for more information about the National Book Festival and the Great Reads from Great Places festival, including interviews with the authors, or click the "Great Reads…" tab in the menu at the top of the page.
Alaska Book Week has passed but many of the events were recorded and are available on the
Alaska Book Week website,
along with Book Week events from the past two years.
Alaska Book Week is a statewide event that annually celebrates the many ways that we all appreciate books, from readings, to panels, lectures, discussions, exhibits, and youth activities. Participants may include schools, libraries, universities, publishers, authors, bookstores, museums, individuals, and organizations that want to join us in this endeavor.
Visit the archives section on the Alaska Book Week site to see past events. Click the tab in the menu at the top of the page where you will see a link to the archives.
CLIA Awards Presented in UAA Ceremony
Efforts to create a better Alaska through the spoken and written word are being honored in the annual Contributions to Literacy in Alaska (CLIA) awards. The Awards were presented during the  Northern Renaissance Arts & Sciences  Reading Series on July 15 in the UAA Fine Arts Building. Other events on that week's schedule are available here.
Innovation and dedication to literacy and literature mark the four winners of the 2022 Contributions to Literacy in Alaska (CLIA) Awards from the Alaska Center for the Book.
Honorees are state library director Patience Fredericksen of Juneau, Anchorage early learning advocate Abbe Hensley, state writer laureate Heather Lende of Haines, and the southwest Alaska community of Igiugig.
Patience Fredericksen is the Alaska state librarian and director of the Alaska Division of Libraries, Archives and Museums in Juneau. Her decades of work in the state library system have encompassed projects ranging from construction and operation of the new state library facility, to administering millions in state and federal grant funding, and delivering books and online resources statewide. One nominator wrote, "As state librarian, Patience is a fierce supporter of Alaska libraries, the right to read, and historical preservation."
Abbe Hensley
is winner of CLIA's Sue Sherif Literacy Award, named for a longtime Alaska librarian pivotal in efforts to support literacy in Alaska. Hensley has spent more than 50 years advocating for childhood health and literacy across the state. In 2006, she helped found
Best Beginnings
, which has grown into a statewide agency introducing thousands of Alaskan children and families to reading, providing resources such as Imagination Library, StoryTRACKS, and Alaskan baby board books. A nominator wrote, "The creation, growth, and maintenance of Best Beginnings can be seen as one of Hensley's crowning achievements in a professional life devoted to the education and support of young children and their families."
Heather Lende is a prolific essayist and author of four best-selling books, most based around her work as an obituary writer in Haines. She was named Alaska's writer laureate in 2021. She is also an energetic community volunteer, filling needs ranging from the local assembly and school board, to hospice care, and singing in her church choir. The CLIA awards look for people who reach beyond their personal goals to help others. "Whether it's acting as an interviewer for the AQR online poetry series, zooming in to requests from schools and writers' groups, helping launch reading initiatives such as Alaska Reads, or just sharing her thoughts on family, community, and work, Heather is always there," a nominator wrote.
The village of Igiugig
is located in southwest Alaska, at the junction of the Kvichak River and Lake Iliamna. Led by village council president AlexAnna Salmon, the village has become known for creating hydrokinetic power, improving local educational opportunities, and more. In the literacy field, they have secured grants for library services, working on language revitalization, local oral history, bilingual children's books, and most recently, an outdoor Storywalk. "To maintain and develop an active tribal library in a community of 71 people is an accomplishment in itself, but to create a community-wide effort to improve literacy and promote revitalization of the local Yup'ik dialect as well takes extra commitment," a nominator wrote.
Link to an Alaska Public Media article about the program in Igiugig.
The 2021 honorees were Anchorage health educator Nyabony Gat, Imagination Library volunteer Elisabeth Jacobson of Bethel, Vered Mares of Writer's Block in Anchorage, and the University of Alaska Press in Fairbanks.
Kenai Peninsula Writers' Contest Winners Named
The Homer Council on the Arts announces the winners in its all-age 24th Annual Kenai Peninsula Writers' Contest. Revived last year by the arts council, poets and writers from grades K-12 and adults were invited to submit their best work in poetry, nonfiction and fiction. Winning entries can be read at the Homer Arts Council website here.
The Alaska Arts and Culture Foundation, in partnership with the Alaska State Council on the Arts (ASCA), offers The Alaska Literary Awards, a new program, established in 2014, to support Alaska writers.
The Alaska Literary Awards recognize and support writers of poetry, fiction, creative nonfiction, playwriting, screenwriting, and mixed genres. Any Alaska writer over the age of 18 who is not a full-time student is eligible to apply. Quality of the work submitted is the primary consideration in determining who receives the awards. A select number of $5,000 awards will be awarded annually.
The Alaska Literary Awards for 2021 go to:
Richard Chiappone – Fiction, Homer
Linda Martin – Poetry, Homer
Christy NaMee Eriksen – Mixed Genre, Juneau
Mistee St. Clair – Poetry, Juneau
To apply go to https://artist.callforentry.org/festivals_unique_info.php?ID=9254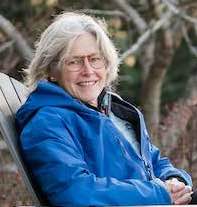 Heather Lende named Alaska Writer Laureate
Heather Lende has been named the Alaska State Writer Laureate for the 2021 – 2023 term.
Heather Lende's many essays and stories, about life in Haines, Alaska have been published widely, including in the Christian Science Monitor, Anchorage Daily News, on National Public Radio.  She has written popular memoirs, Find the Good, If You Lived Here, I'd Know Your Name, and Take Good Care of the Garden and the Dogs. Find more information here and here.
Alaska Artist Wins Caldecott Medal for Children's Book
Michaela Goade won the Randolph Caldecott Medal for her illustrations in "We Are Water Protectors," a children's book that takes a stand on environmental issues. She is a member of the Tlingit and Haida Indian Tribes of Alaska and is the first indigenous artist to win this award. The book was written by Carole Lindstrom. 
The American Library Association, which gives this award, also announced other winners in children's media, including the John Newbery Medal, the Coretta Scott King Award, the Michael L. Printz Award and others.
More information…
The Alaska Center for the Book is included in the Permanent Fund Dividend's Pick.Click.Give. charitable contributions program. It's a secure and easy way to make a donation to an organization that stimulates public interest in literacy through the spoken and written word. When you file for your PFD online, you will be given a chance to donate money from your PFD. When you do, please remember The Alaska Center for the Book.
Just check the box that authorizes the State to send your name, contact information and the amount you give when it sends contributions to an organization so we can recognize your support.
Thanks to all who contributed. Your help allows the Alaska Center for the Book to continue its programs, events and unique projects to support and build literacy in Alaska.
For more information click here:  Pick. Click. Give.
Registration for North Words 2023 is now open! Over the past few weeks they have filled the remainder of their faculty and have created a new slogan/theme for the conference: Ya aaní káa has du shkalneegí yaa nas.áx̱ (On this land their stories are sounding off). The slogan evolved from a recognition that we are on Lingit traditional lands and a challenge by the late Brian Doyle (our 2016 keynote) for us to go out and catch stories.
The 13th annual North Words Writers Symposium will be held in Skagway on May 24-27, 2023.
Joining the faculty with our 2023 keynote author Karen Russell (Swamplandia, Orange World, Sleep Donation) will be these wonderful Alaska-NW writers: Marybeth Holleman, M Jackson, Leigh Newman, Marie Tozier, Caroline Van Hemert, and Emily Wall. Check out their bios and recent works under the 2023 Conference menu tab on our website, www.nwwriterss.com. When you are ready, go to the Registration tab and hit the magic button!
Seeking Alaska Native Writers Calling all Alaska Native writers, poets, and content creators! We are seeking submissions for stories, poems, photo essays, and other creative works that center what Spring means to you from an Indigenous lens. This is a paid opportunity, and we would like to share your work with our community.If you're interested, please contact Presley West at pwest@alaskanative.net. Haw'aa!
Hometown Reads is in Anchorage! A website dedicated to locating authors near you, Hometown Reads has a section for Anchorage. Sign up to have your book displayed and join the Facebook page to brainstorm ways to advertise and sell books locally. Check it out at https://hometownreads.com.
Youth Poet Laureate. You probably know that there is a United States Poet Laureate, but you may have never having heard of the Youth Poet Laureate. Here is a link to a excellent article from TheLilly.com that features a conversation with two Youth Laureates. more…
"Baby Raven" Books Wins AILA Award
Sealaska Heritage Institute's (SHI) Baby Raven Reads book Raven Makes the Aleutians has won a Picture Book Honor award from the American Indian Library Association (AILA).
The AILA, an affiliate of the American Library Association, announced winners of its biennial Youth Media Awards today in Philadelphia, calling the selected books "the best of the best in children's and young adult literature." More…