Alaska Center for the Book
Anchorage Public Library Launches Alaska Reads 2021
"Anchorage Reads" is a community led program to promote reading, literacy and community-building by inspiring people of different ages and backgrounds to talk about the same book. Groups and individuals are encouraged to participate by reading the book, attending events or organizing their own.
This year the program has selected
Stamped from the Beginning: A Definitive History of Racist Ideas in America 
by Ibram X. Kendi
 and Stamped: Racism, Antiracism, and You by Ibram X. Kendi and Jason Reynolds. The Anchorage Public Library works to ensure that all people in Anchorage have free and equal access to information, and this goal cannot be achieved without addressing racial and social inequity. By choosing Stamped and Stamped from the Beginning, Anchorage Reads and the Anchorage Public Library seek to build a community where we can learn from each other and work together to create a better future for everyone. 
For a complete list of "Anchorage Reads" events, suggested supplemental reading and film lists, a reader's guide, and much more, visit the Anchorage Public Library's website
HERE
.
26th Statewide Poetry Contest
The Fairbanks Arts Association is now accepting entries for the Statewide Poetry Contest. Deadline is March 15. Emily Wall is the judge.
The Statewide Poetry Contest is a celebration of poetry writing and literary artistry and invites participation from writers of all ages—elementary school and up. The contest aims to encourage, publicize, and reward the writing of high-quality poetry in Alaska. 
Winners of the contest will receive monetary prizes as well as an invitation to share their poetry during a virtual event in April.
Library of Congress Literacy Awards
The Library of Congress is accepting applications for Literacy Awards from non-profit organizations through March 5th. There are three types of awards:
Prizes
The David M. Rubenstein Prize ($150,000) is awarded for an outstanding and measurable contribution to increasing literacy levels to an organization based either inside or outside the United States that has demonstrated exceptional and sustained depth in its commitment to the advancement of literacy. The organization will meet the highest standards of excellence in its operations and services.
The American Prize ($50,000) is awarded for a significant and measurable contribution to increasing literacy levels in the United States or the national awareness of the importance of literacy to an organization that is based in the United States.
The International Prize ($50,000) is awarded for a significant and measurable contribution to increasing literacy levels in a country other than the United States to an organization that is based either inside or outside the United States.
Successful Practice Honorees ($5,000): Each year up to 15 organizations that apply in the three major prize categories are recognized for their successful implementation of a specific literacy promotion practice.
For more information, please go to their
website
.
49 Writers Reading and Conversation Series
This free series takes place at 6:00 – 7:00 pm on the third Thursdays of the month via Zoom. Writers scheduled are:
January 21
February 18
March 18
April 15
May 20
Don Rearden
David Stevenson
Marie Tozier
Tom Sexton
Ernestine Hayes
Alaska Artist Wins Caldecott Medal for Children's Book
Michaela Goade won the Randolph Caldecott Medal for her illustrations in "We Are Water Protectors," a children's book that takes a stand on environmental issues. She is a member of the Tlingit and Haida Indian Tribes of Alaska and is the first indigenous artist to win this award. The book was written by Carole Lindstrom. 
The American Library Association, which gives this award, also announced other winners in children's media, including the John Newbery Medal, the Coretta Scott King Award, the Michael L. Printz Award and others.
More information…
American Indian Library Association Read Native Initiative
The AILA is sponsoring a reading challenge for 2021. They are bringing together these reading prompts to help expand the reading of Native authors. They plan to hold quarterly webinars/books talks, and hope to be fairly active on social media. 
Here are the links to their webpage and their social media pages. If you have questions, or would like to ask for reader advisory suggestions, send them an email. 
Kachemak Bay Writers' Conference May 15-18
The Kachemak Bay Writers' Conference resumes this spring after a one-year hiatus. For nineteen years, the conference has brought together hundreds of writers from around the state and the country to learn from nationally-renowned faculty. Due to COVID mandates, this year's conference will be entirely virtual. Conference participants can take part in twelve classes, three writers' craft conversations, a panel discussion by writers from the Peabody Award-winning PBS show Molly of Denali, as well as various networking and community building activities. More information…
Thank you for a great Alaska Book Week!
Thanks to all who helped make this year's Alaska Book Week a success. Coordinating an all virtual Book Week was a challenge, but we ended up with a lot of engagement for both live and pre-recorded events—more than we had with past in-person only events.
This year's Alaska Book Week offered a lot! Participants were invited to write haikus and to share videos, which we posted on our website. Viewers enjoyed a reading by AQR contributing editors. They heard from prominent women writers coping with the pandemic, from climbing and skiing guidebook writers concerned with ethics, and from women writers who considered the connections between gender, writing, and periods of immersion in the natural world. They learned about Native art history. They got a sense of what it's like to write romance as Alaskans. They listened to a writer discuss the inspiration for her book. They learned how to take their writing projects from manuscript to print, and they got good advice about finding an agent and getting published. And finally, they watched writers share their poems.
Nobody knows what next year will look like but we are committed to taking advantage of the lessons learned this year and in past years to once again organize a viable and robust Alaska Book Week. We welcome any suggestions and ideas to accomplish our goals.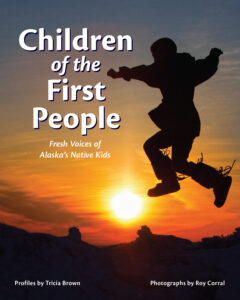 Virtual National Book Festival – September 25 – 27, 2020
Each year the Alaska Center for the Book participates in the The National Book Festival, which features author events and highlights authors and books from each of the 50 states. This year's festival was held virtually. 
Each state Center highlights a book for Great Reads in Great Places. This year we are highlighting the book Children of the First People by Tricia Brown (author) and Roy Corral (photographer). This is a beautiful book with a unique perspective about the rich cultural heritage of Alaska's Native kids. Watch a video about this book.
Now that the festival is completed, author events can still be found on www.loc.gov/bookfest. 
James Welch Prize – Poetry Northwest
Poetry Northwest's James Welch Prize will be awarded for two outstanding poems, each written by an Indigenous U.S. poet. The prize is named for Blackfeet and Gros Ventre writer James Welch, whose early poems were featured in Poetry Northwest and who went on to become one of the region's most important writers. This year we are honored to have Diné poet Sherwin Bitsui judging the inaugural contest.
The prize is open to new, emerging, and established poets who are members of tribal nations within the United States and its trust territories (including American Indians, Alaska Natives, Native Hawaiians, Chamorros, and American Samoans). Eligible contestants need not be previously published, but must be demonstrated (enrolled or community-recognized) members of their tribal nation. Between February 1 and Mark 15 each entrant may submit up to three poems in a single submission. Please submit only once. There is no submission fee for this prize. More information…
Hometown Reads is in Anchorage! A website dedicated to locating authors near you, Hometown Reads has a section for Anchorage. Sign up to have your book displayed and join the Facebook page to brainstorm ways to advertise and sell books locally. Check it out at https://hometownreads.com.
Youth Poet Laureate. You probably know that there is a United States Poet Laureate, but you may have never having heard of the Youth Poet Laureate. Here is a link to a excellent article from TheLilly.com that features a conversation with two Youth Laureates. more…
"Baby Raven" Books Wins AILA Award
Sealaska Heritage Institute's (SHI) Baby Raven Reads book Raven Makes the Aleutians has won a Picture Book Honor award from the American Indian Library Association (AILA).
The AILA, an affiliate of the American Library Association, announced winners of its biennial Youth Media Awards today in Philadelphia, calling the selected books "the best of the best in children's and young adult literature." More…
The Alaska Center for the Book is included in the Permanent Fund Dividend's Pick.Click.Give.charitable contributions program. It's a secure and easy way to make a donation to an organization that stimulates public interest in literacy through the spoken and written word. When you file for your PFD online, you will be given a chance to donate money from your PFD. When you do, please remember The Alaska Center for the Book.
Just check the box that authorizes the State to send your name, contact information and the amount you give when it sends contributions to an organization so we can recognize your support.
Thanks to all who contributed. Your help allows the Alaska Center for the Book to continue its programs, events and unique projects to support and build literacy in Alaska.
For more information click here:  Pick. Click. Give.